---
Composer Profiles
---
Robert Duckworth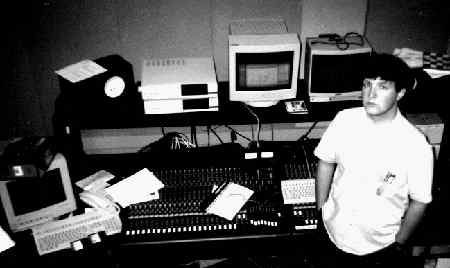 Robert Duckworth
---
Listen to this show


---
Robert Duckworth
Click here

for RealAudio G2
comments by the composer
, 5:40.
---
Robert Duckworth has his own home page. Here it is: http://www.geocities.com/screwedupmusic/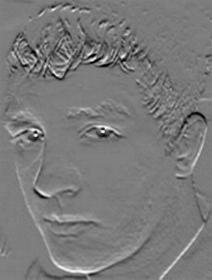 Robert Duckworth
New Media Artist Robert Duckworth (b. 1974), becomes interested in percussion as a teenager.
Earns BMUS in Music Composition from The University of Georgia. Studies with Lewis Nielson and Chick Ball.
Forms "musique intuitive" ensemble Pushdown Automata.
Begins to study the Japanese language.
Tenure as Composer in Residence for the Verge Modern Dance Troupe
Private composition studies with Takehito Shimazu in Tokyo.
Conducts at NHK Studios in Shibuya, Tokyo.
Studies with Karheinz Stockhausen (Germany), David Zicarelli & Miller Puckette (SUNY), and Pierre Boulez (Carnegie Hall).
Co-founds TOG PowerBook duo with Roddy Schrock.
Collaborates and/or concertizes with experimental Japanese sound artists such as Masayuki Akamatsu, Koji Asano, Kazumoto Endo, Toshimaru Nakamura, Kazue Sawai, Taku Sugimoto, Atau Tanaka, Koichi Watanabe, and Otomo Yoshihide, among others.
Japanese National Cultural Foundation Special Research Composer
TOG concertizes throughout Japan.
Studies at C.C.M.I.X. in Paris.
TOG concertizes in America.
MFA Composition New Media at CalArts. Studies with Mark Trayle.
---
little yellow doll info
Greetings from Los Angeles. Robert here from the PowerBook duo TOG.
I'm proud to announce the debut of little yellow doll, a new on-line broadcast dedicated to experimental music. (Broadcast times, details, and contact info are at the bottom of this page.)
Everyone is invited to tune in to the little yellow doll broadcast, and to contact me with requests, comments, upcoming concert info, etc.
little yellow doll is always interested in featuring new experimental artists and their works, so if you are interested in having your works (or works that you enjoy) placed in our ever-growing library for on-line broadcast and rotation, feel free to send them in (any format is acceptable).
little yellow doll is also currently scheduling shows spotlighting individual experimental artists. (2 hours of air-time dedicated to your works, an interview, and a live in-studio concert if you are in the LA area.) Please contact me for more information.
Looking forward to hearing from you.
Best,
Robert Duckworth
MFA Composition New Media - CalArts
---
little yellow doll
a broadcast of experimental music
with NAVIGATOR ROBERT & special friends
Every Monday from 12:00-14:00 (PST)
Every Tuesday from 00:00-02:00 (PST) on
KCIA 105.3 CABLE FM - NO FORMAT RADIO, Los Angeles, California
LIVE INTERNET AUDIO BROADCAST: http://shoko.calarts.edu/~kcia/
STUDIO LINE: 661-255-1050 x2011
CONTACT NAVIGATOR ROBERT BY EMAIL: littleyellowdoll@yahoo.co.jp
VIEW NAVIGATOR ROBERT'S WEBPAGE: http://www.tognet.org
SEND SUBMISSIONS (CD) TO:
Robert Duckworth
BOX CE-09
California Institute of the Arts
24700 McBean Parkway
Valencia, CA 91355
---

99.12   returns to live in japan to continue studies with t. shimazu

99.11   accepted to attend stockhausen summer courses 2000 in kurten, germany
        performs split concert at eyedrum in atlanta with steven yi
        accepted to attend IMPULS 2000 composition/conducting courses in austria
        performs with the the noisettes and dr. irene moon in athens at the c. lounge      

99.10   visits osaka based composers k. uehara, y. nakajima, and 
        k. ishigami.  
        attends p. boulez workshop for instrumentalists
        and conductors at carnegie hall
        attends asian musicology seminar held by j. kim

99.9	selected for composition masterclasses with t.shimazu
        during residency at university of georgia
	performs with the noisettes in athens at the 40 watt
        opening for macha
  .8    visits ircam studios in paris
  .7    attends stockhausen summer courses 1999 in kurten, germany
  .6    performs with verge at 1st annual flagpole music awards
        and janky props II
        forms tricky old lady electronic improv ensemble
        with r. schrock
        attends june in buffalo (emerging acoustic
        composers and max/msp workshops) at s.u.n.y. 
  .5    cultural exchange concert proposed for the sister cities
        of macon georgia and kurobe japan
        major works now available at mp3.com
        collaboration at eyedrum in atlanta with verge dance company
        featured on 90.5 fm wuog "live in the lobby"  
        first broadcast of for radio and wail
        verge dance event co-ordinated with broadcast    
  .3 	accepted to study with p. oliveros in murren, 
        switzerland to persue deep listening training certificate
	alchuringa (dance/electroacoustic collaboration) 
        selected to represent uga department of dance at american
        college dance association festival in florida 
	attends composition master classes with j. tower at uga
	invited to participate in n.a.i. (neural audio imaging)
        research at mississippi state university with p. kaul
	dan-dan to appears at 99.2 southeastern composers league
        conference at m.s.u.
        releases cd of major works
  .2	jinkokokyu (electroacoustic) featured on tomorrow's 
        voices 1999 georgia state univeristy festival of young 
        composers in atlanta
	featured composer on the unclassical show (90.5 fm wuog)
        university of georgia 20th century music radio program
	tenure begins as composer-in-residence with verge dance company in athens
	continued dance/electroacoustic music collaboration with
        choreographers b. dalton and e. hogan
  .1	invited by t. shimazu to act as contributing writer for
        tokyo-based contemporary music journal
	as part of his tokyo-athens music exchange hosts tokyo
        electroacoustic composer t. suzuki in athens, georgia
        delivers lecture, collaborates, and gives concert 
	of new electronic works by t. suzuki and m. nishikawa

98.12	dance/electroacoustic music collaboration with 
        university of georgia choreographers c. dieterle, 
        b. dalton, and e. hogan for young choreographers series
	jinkokokyu and phase II  are choreographed
  .10	delivers lecture on electroacoustic music of t. shimazu 
        to university of georgia composition faculty and students
  .6-8	music, culture, and language studies in tokyo, japan
		-  dan-dan to given world premiere in tokyo
		-  presents lecture on new compositions as 
                   a guest of t. shimazu
		   to t. suzuki and m. nishikawa
		-  invited by k. shinohara to conduct mixed 
                   medieval chamber ensemble
		   (japanese and european instruments) for 
                   recording of film score
		   at nhk studios
		-  interviews t. shimazu
		-  composes dan-dan to (solo trumpet) for 
                   yokohama-based orchestral
   		   performer m. mori
  .5	begins composition studies with l. nielson
  .4	initiates research into japanese modern composers
  .2	japanese language and cultural studies begin
	senior composition recital y. nakajima performs three 
        dances (prepared piano)
  .1    given special recognition by university of georgia 
        school of music for outstanding achievement in
        composition

97.12	aria di sorbetto featured at southeastern composers 
        league conference at radford state university
  .9	selected for composition masterclasses held by g. crumb
        at university of georgia
	interviews g. crumb on the unclassical show (90.5fm)
  .7	invited to join university of georgia c.c.e.
        by director/conductor l. nielson
  .6	junior composition recital
  .2	attends composition masterclasses with e. zwilich
	performs in world premiere of jubilation by e. zwilich 
        as univeristy of georgia orchestral percussionist

96.12	co-founds push-down automata intuitive music ensemble
  .8	begins electroacoustic composition studies with l. ball
  .2	elected by university of georgia student composers 
        association to serve as secretary 
  .1	private lessons in modern dance theory and aesthetics 
        with m. wheeler, chair of uga dance department
	attends composition masterclasses held by w. bolcolm
	begins private composition lessons with w. davis

95.7	presents ongoing lecture series on 20th century music
	to uga composition faculty and students (subjects range
        from aleatoricism of boulez to zwilich chamber music)
        percussion studies with t. mccutchen and a. scott
  .6	accepted to study composition at university of georgia

94	initial study compositions undertaken 

93-94	studies music theory with j. williams and vocal         
        performance (baritone-bass) with l. bynum at darton
        college

92	begins percussion studies with d. campbell


 Robert Duckworth



---




To reach the composer:

On-line: 

By telephone:

By fax:

By physical mail:






---