---
Composer Profiles
---
Elizabeth Falconer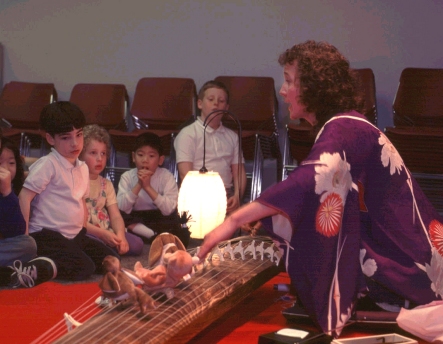 Elizabeth Falconer
---
Listen to this show


---
Elizabeth Falconer

for RealAudio comments by the composer, 2:54.


for RealAudio 5 stereo version of Hakaze, 10:14. RealAudio mono version


for RealAudio 5 stereo version of The Tanabata Legend, 7:55. RealAudio mono version

---
Elizabeth Falconer ... from her home page:
Koto Tales is a unique offering that I perform in both educational and casual settings. My first release containing a selection of these folktales with koto accompaniment, "Plum Boy! and other tales from Japan," received a 2000 Parents' Choice Gold Award as well as a NAPPA (National Parenting Publications Awards) Honors Award. My second recording of these musical adventures, "Hana and the Dragon," which was released in January 2001 was subsequently awarded a 2001 Parents' Choice Silver Honor. My koto and I perform the stories at programs together, often with puppets and lifelike stuffed animals now on permanent loan from my young sons. They stimulate the imagination and warm the heart....and my audiences like them too!
I have been very, very lucky in people I have had the privilege to play and record with. Singer/songwriter Aiko Shimada and I have just completed "Oyasumi," a collection of lullabies and traditional songs from Japan. Aiko's voice is simply the warmest voice on this planet. Oyasumi was awarded a 2001 Parents' Choice Gold Award this fall. I have performed and collaborated with performers such as Lori Goldston (cello), Angelina Baldoz (trumpet), Stuart Dempster (trombone), Ellen Fullman (long string instrument), Jin Hi Kim (Komungo), Phil Gelb (shakuhachi), Ed Pias (pakhawaj), Maggie Chula (poet), and Gary Stroutsos (flutes), and have performed new works by composers including Kyle Hanson, Lynette Westendorf, Garrett Fisher, Jarrad Powell, Jackie Gabel, William O. Smith, and Christian Asplund. I have been extremely lucky with teachers as well, and have been deeply influenced by my my teacher and mentor Sawai Kazue, with whom I have performed throughout Japan, the United States, and Europe. I play in a variety of settings, including universities and museums, festivals and libraries, weddings and bookstores
I compose quite a bit for koto as well, having studied under Sawai Tadao and Kuribayashi Hideaki. A collection of my works entitled "Deep Pool" is available here. The music for many of my compositions are published by Dai Nihon Katei Ongakukai in Japan. I now perform and teach in the Seattle area, and direct the Taka Koto Ensemble, a non-profit group dedicated to promoting Japanese music. The ensemble has debuted several of my works in the past several years, some of which are featured on the "TAKA" CD. Please visit Other Collaborations for more information regarding my works with other musicians.
I have written various articles on the koto and koto performers in newspapers, magazines, and periodicals. Some of these articles are available at this website. I have a B.A. in Japanese Studies from the University of Oregon, an M.A. in Japanese Pedagogy and a Ph.D. in International Education from the University of Iowa. But of all my educational endeavors, the most important has been my studies with Kazue Sawai at the Sawai Koto School in Tokyo, where I earned a master's license in 1990.
---
---
To reach the composer:
On-line: liz@kotoworld.com
By telephone/fax:
By physical mail:
---