---
Composer Profiles
---
Janice Giteck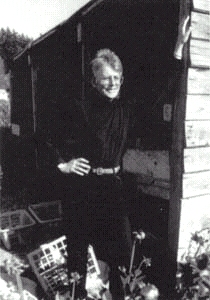 Janice Giteck
---
Listen to this show


---
Janice Giteck

for RealAudio comments by the composer. MP3 version


for RealAudio 5 stereo version of Agrarian Chant 3, 8:00. RealAudio 5 mono version

---
Janice Giteck lives in Seattle where she teaches music composition and women's studies at the Cornish College of the Arts. For the past year she has been one of four lead artists for ARTP (Artist's Regional Transit Project) a performance/media collective work sponsored by the Municipality of Metropolitan Seattle (Metro). Concurrently, she is creating a new piece for ensembles in Portland, Syracuse and Atlanta, as part of the Reader's Digest/Meet the Composer Program. The theme is "love and rage". In her current composition she is working to recapture ancient musical attributes of ritual and trance, exploring ways music-making can be truly healing.
Born in New York in 1946, Giteck studied with Darius Milhaud at Mills College (BA 1968, MA 1969) and on a French Government Grant, attended the Paris Conservatory as a student of Olivier Messiaen. Subsequently she studied Indonesian Gamelan music with Daniel Schmidt and percussion with Obo Addy, master drummer from Ghana. Her interest in the relationship of music and healing led her to study psychology, resulting in an MA from Antioch University in Seattle, 1986, also work as a music specialist at Seattle Mental Health Institute from 1986 to 1991.
Her works include "TREE" commissioned by the San Francisco Symphony (1981) and music for two films by Pat Ferrero: "Hopi: Songs of the Fourth World" (1983), and "Hearts and Hands" (1987) funded by the National Endowment for the Humanities. Released on an earlier compact disc are "Thunder, Like a White Bear Dancing" with Thomasa Eckert, soprano, which received the Norman Fromm Composers Award in 1977; "Callin' Home Coyote" composed in 1978 for tenor, John Duykers, Andy Narrell, steel drums, and Karla Lemon, double bass, (California Arts Council Award), and "Breathing Songs from a Turning Sky" (1980-84) for six instruments (National Endowment for the Arts Composer's Award).
---
---
To reach the composer:
On-line: jgiteck@seanet.com
By telephone/fax:
By physical mail:
---