---
Composer Profiles
---
Wayne Horvitz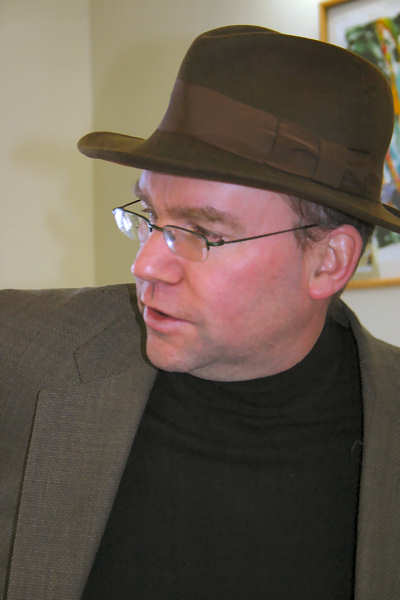 Wayne Horvitz
---
Listen to this show


---
Wayne Horvitz
---
Composer, pianist, and keyboardist Wayne Horvitz has performed extensively throughout Europe, Japan, and North America. Over the past ten years, he has been leading various ensembles of his own, including The President, The Horvitz-Morris-Previte Trio, the Seattle based Pig Pen, and since the winter of 94/95, an acoustic quartet with saxophonist Briggen Krauss, bassist Phil Sparks and drummer Kenny Wollesen. He is the founder and co-leader of the New York Composers Orchestra and a member of John Zorn's Naked City. As a sideman, he has worked with such diverse artists as Marty Ehrlich, Billy Bang, Butch Morris, Bill Frisell, Bobby Previte, and blues guitarist Bobby Radcliff among others. He appears on over fifty recordings.
As a composer, he has been commissioned by The Kitchen, The Kronos Quartet, New World Records and Earshot Jazz for the International Creative Music Orchestra. He has received grants from Meet the Composer, the NEA, the N.Y. State Arts Council, The Mary Flagler Carey Trust, The Seattle Arts Commission, and the Lila-Wallace-Reader's Digest Fund. Commissions for theater have included productions of Ezra Pound's Elektra and the American Premiere of Harold Pinter's Mountain Language, both directed by Carey Perloff. In 1992 choreographer Paul Taylor created a new work, Oz, to eleven compositions by Wayne Horvitz in collaboration with the White Oak Dance Company. Other theater and dance works include music written for Bill Irwin's Broadway show Strictly NY, the Liz Lerman Dance Company in Washington D.C., the Crispin Spaeth Dance Company in Seattle, and others. Wayne Horvitz has also composed and produced music for a variety of video, television and other multimedia projects, including science programs for children, interactive CD-ROMS and laser discs, for PBS, Microsoft and other clients.
As a record producer, Mr. Horvitz has produced albums for Elektra, New World Records, Nonesuch, Antilles and Sound Aspects. Artists include Bill Frisell, Butch Morris, Robin Holcomb, John Adams, and Peter Apfelbaum and the Hieroglyphics Ensemble. In 1988 his Sound Aspects release Nine Below Zero received the German critics award "Preis der Deutschen Schallplattenkritik". His album Miracle Mile on Elektra was named "Best of the Month" by Stereo Review and received 5 stars in Down Beat Magazine. The 1992 Down Beat Critics Poll placed him #1 talent deserving wider recognition in the synthesizer category. The educational CD-ROM Dinosaurs (Microsoft) received an EMMA award in Germany for the Best Sound Design in 1993. Born in New York City in 1955, Wayne Horvitz now lives in Seattle with his wife, composer Robin Holcomb, and their daughter Nica.
Biography courtesy of Saudades Tourneen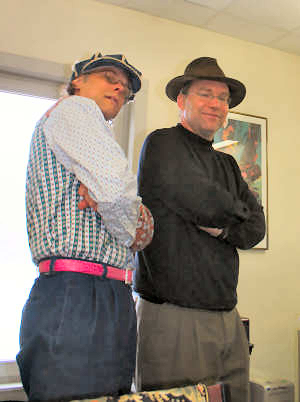 Wayne Horvitz with Damian at FlynnSpace, Burlington, Vermont
---
---
To reach the composer:
On-line: Contact K&D
By telephone/fax:
By physical mail:
---