To all visitors: Kalvos & Damian is now a historical site reflecting nonpop
from 1995-2005. No updates have been made since a special program in 2015.


Chronicle of the NonPop Revolution
---
Composer Profiles
---
Roddy Schrock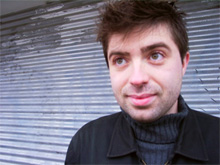 Roddy Schrock
---
Listen to this show


Roddy Schrock
---
Roddy Schrock is a California-based digital composer. A mercurial presence in the new music scene for nearly ten years, his live performances, music and installations have been presented in Japan, Europe and North America. His music juxtaposes playful sonic surfaces and formalism, rooted in frivolity.
He is a recognized electronic music artist. His performances and installations have taken him around the globe multiple times. His work in software design has been used by award-winning composers. As an educator he has taught at STEIM, De Anza College, and currently CSMA. He is a regular contributor to New Music Box and has also written for e/i magazine, and Gridskipper. He received his MFA from Mills College and completed a certificate program in Sonology at the Royal Conservatory of the Hague in the Netherlands.
SELECTED PERFORMANCES & INSTALLATIONS
2008, Ghost Collect Output, ring-tone composition, "Sound Device", Root Division, San Francisco
2008, with Kunsole, dot dot Knock, embedded installation, SFAC Window Installation Site, San Francisco
2007, music and portable sound diffusion, Kunsole participation in Deitch Art Parade, New York City
2007, Here. There. (Distance Study 1), collaboration with Jano Cortijo (video), Meridian Music Series, Meridian Gallery, San Francisco
2007, Freddie Herko Memorial Evocation, collaboration with Deric Carner, Artists' Television Access, San Francisco.
2007, MicroMusic for 15 Designs, collaboration with Momus, Pecha Kucha, SuperDeluxe, Tokyo
2007, Fractured Conversation, two channel incidental sound installation, in group show "Pause", Blackbird Space Gallery, San Francisco and Factory Model, Art Miami Basel
2006, Love's Geography Revisited, live music for performance piece by Sara Wookey, UCLA Graduate Symposium "Lessons On Love ", Hammer Museum, Los Angeles
2006, Experimental Media Arts residency, new works and public lectures, Stanford University
2006, February, Solo European tour, performances in Oslo (Spasibar), Hamburg (Hoerbar), and Berlin (Zentrale Randlage and Ausland)
2004, Seconds of Salvation, with video designer Remi Gerard- Marchant, group show "Between Heaven and Earth", The Lab, San Francisco
2004, adaptation of Slowly Turning Narrative, with Nathan Fuhr, "Kunstvlaai 5 Festival", Amsterdam
2004, Pan Pacific Playground, real-time network performance in SuperCollider, STEIM, Amsterdam, w/Tadashi Usami (Tokyo), Michael Cox (Oakland), and Doug van Nort (Montreal)
2004, Hybrid Behaviors, sound installation with Seamus Cater, "66 East Gallery", Amsterdam
2004, Re-Call, live sound and movement improvisation, with choreographer Malgorzata Haduch, Muiderpoort Theater, Amsterdam
2004, Joey's Song, with filmmaker Ludovic Pierre, "CEAIT Festival", RedCat Theater, Los Angeles
2003, Cobra, at Zaal 100, with Ensemble Collision Palace, "TryTone", Amsterdam
2003, One Happy Moment, w/VJ Pillow, "Music at the Anthology Festival", New York City
2003, Emotivesque, "Soundscrape 3″, New York City
2002, Pop!!! snap, crackle…, nationwide Japan tour as Tog, w/Robert Duckworth, on tour with Carl Stone, Momus, Christophe Charles, Hypo, and Sawako
2002, Folding Piece, with Randy Nordschow, "Strawberries and Violins", San Francisco Museum of Modern Art
2002, Improvisation #178, as Tog, "ShoboShobo Festival", Tokyo
2002, Let's Examine the Issues, "Sonic Circuits Festival", Kennedy Center, Washington DC
2002, [Yet Another form of] Musical Allotransplantation, as Tog, "SoCal Exchange Festival", CCRMA, Stanford University
2002, Logic Is Has Cow Is Stuck On You, with Rasmus Joergensen and Tadashi Usami, "Signal Flow Festival", Mills College, Oakland
2001, Improvisation #153, "Tokyo Improvisation Festival", as Tog, at Deluxe, Tokyo
2001, Just Enough to Break Them Up, performed by Heather Heise, Contemporary Performance Ensemble, Mills College, Oakland
2001, Improvisation #127, w/Christian Wolff and members of the Back Door Art Ensemble, The Parnik, Ostrava, Czech Republic
2001, An Almost Human Gesture, soloists of Janacek Symphony Orchestra, Ostrava, Czech Republic
2000, When You Can't Remember Why You Came, Connections - Music by America's New Generation, Fukushima University, Japan
2000, Improvisation #34, as Tog, w/Robert Duckworth, Theater Poo, Tokyo
EDUCATION
Royal Conservatory of the Hague, Certificate: Sonology, The Hague, Netherlands, 2004.
Mills College, M.F.A., Electronic Music and Recording Media, 2003.
Mississippi State University, B.A., Sociology, 1999.
SUPPLEMENTARY EDUCATIONAL SYMPOSIA
2001, Ostrava New Music Days, under the tutelage of Maria de Alvear, Jean-Yves Bosseur, Alvin Lucier and Christian Wolff, Ostrava, Czech Republic
2001, June In Buffalo, under the tutelage of Aaron Jay Kernis, Charles Wuorinen, Jukka Tiensuu and David Felder, SUNY Buffalo, New York
WORKSHOPS/LECTURES
California College of Arts, Oakland, CA. Instructor, Young Artist Studio Program, Summer, 2007
De Anza College, Cupertino, CA. Instructor, Electronic Music 07.2004 - 07.2005
Studio for Electro-Instrumental Music (STEIM), Amsterdam. Lecturer, SuperCollider audio software, 2004 - 2005, summers
---
To reach the composer:
On-line: rschrock@mills.edu
By telephone:
By fax:
By physical mail:
---