---
Composer Profiles
---
Pamela Z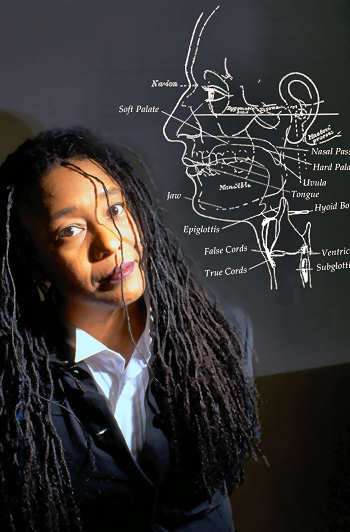 Pamela Z
Photo © 2002 Lori Eanes
---
Listen to this show


---
Pamela Z
---
Pamela Z is a San Francisco-based composer/performer and audio artist who works primarily with voice, live electronic processing, and sampling technology. She creates solo works combining operatic bel canto and experimental extended vocal techniques with found percussion objects, spoken word, "MAX MSP" on a PowerBook, and sampled concrête sounds triggered with a MIDI controller called The BodySynth™ which allows her to manipulate sound with physical gestures. Her performances range in scale from small concerts in galleries to large-scale multi-media works in proscenium halls and flexible black-box venues.
Pamela Z has toured extensively throughout the United States, Europe, and Japan. She has performed in numerous festivals including Bang On A Can at Lincoln Center in New York, the Interlink Festival in Japan, Other Minds in San Francisco, the Pina Bausch Tanztheater's 25 Jahre Fest in Wuppertal, Germany, and La Biennale di Venezia in Venice, Italy. She has composed, recorded and performed original scores for choreographers and for film and video artists, and has done vocal work for other composers (including Charles Amirkhanian, and Henry Brant). Her large-scale, multi-media performance works, Parts of Speech , Gaijin, and Voci, have been presented at Theater Artaud and ODC Theatre in San Francisco, and her audio works have been included in exhibitions at the Whitney Museum of American Art in New York and the Erzbischöfliches Diözesanmuseum in Cologne. In May of 2004, her work will be presented at La Biennale de l'art africain contemporian – Dak'Art, in Dakar, Senegal.
Ms. Z has composed commissioned works for new music chamber ensembles the Bang On A Can Allstars, the California E.A.R. Unit, the Left Coast Chamber Ensemble, and St. Luke's Chamber Orchestra. Since 1986 she has been producing "Z Programs", an ongoing series of interdisciplinary events in which her own work has been featured along with that of other artists doing experimental work in various genres. She is a member of the electroacoustic ensemble sensorChip (with Miya Masaoka and Donald Swearingen) and the interdisciplinary performance ensemble The Qube Chix. She has done several concerts and experimental theater pieces with Zakros New Music Theatre (including their John Cage festivals), and has performed with The San Francisco Contemporary Music Players. She is the recipient of numerous awards including a 2004 Guggenheim Fellowship, the CalArts Alpert Award in the Arts, the ASCAP Music Award, and the NEA and Japan/US Friendship Commission Fellowship. She holds a music degree from the University of Colorado at Boulder.
---
---
To reach the composer:
On-line: Contact K&D
By telephone/fax:
By physical mail:
---