To all visitors: Kalvos & Damian is now a historical site reflecting nonpop
from 1995-2005. No updates have been made since a special program in 2015.


Chronicle of the NonPop Revolution
---
Composer Profiles
---
Peter Zummo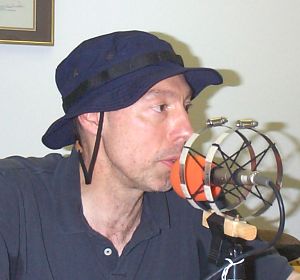 Peter Zummo
---
Listen to this show


---
Peter Zummo
---
Peter Zummo has been composing for solo tombone and ensemble since 1967. He has performed and produced this body of work worldwide and has recorded it for CD, LP, and video release. Critics and colleagues describe him as an important exponent of the American contemporary classical tradition. His compositions include influences of the minimal, jazz, world music, and rock styles. Zummo has devised pioneering ensembles and new instrumental techniques for trombone, valve trombone, dijeridu, euphonium, synthesizer and other electronic instruments, and voice.
In addition, from 1975 to the present, he has performed and recorded the work of many other major contemporary, jazz, popular, and classical composers in New York City, around the United States, and in Europe. Performances for television include Bernard Hoffer's theme for the Newshour with Jim Lehrer, which can be heard nightly, and Late Night with Conan O'Brien, as well as various public television appearances. Zummo's compositions are published by Frog Peak Music. Recorded releases of his work include the LP Zummo With an X, on Loris Records. CDs include Experimenting With Household Chemicals, on XI; Slybersonic Tromosome, on Penumbra; and Downtown Only, on Lovely Music.
Employment
New York Arts Program, 1980-present: Program Associate and Associate Professor of Music, Ohio Wesleyan University, Delaware, Ohio
The Loris Bend Foundation, Inc., a nonprofit producer and presenter of music, dance, and media, 1978-present: Artistic Director and Member, Board of Directors
Education
PhD Ethnomusicology (ABD), Wesleyan University, Middletown, Connecticut; dissertation: Subjectivity and Methodology in Contemporary Music
MA Music, 1975, Wesleyan University, Middletown, Connecticut; dissertation: Resonance: The Pulse of the Hero and the Measure of the Universe (acoustics, perception, and phenomenology)
BA with Honors in Music, 1970, Wesleyan University, Middletown, Connecticut; thesis: Instructor's Manual for Performing Workshop
Professional Training
Carmine Caruso, 1972-1988, brass training and pedagogy
Roswell Rudd, 1977, 1995-present, composition and jazz trombone
Additional studies in jazz and contemporary trombone, 1972-present, with Stuart Dempster, James Fulkerson, Dick Griffin, Makanda Ken McIntyre, and Sam Rivers
Selected Venues
Brooklyn Academy of Music Next Wave Festival (Radical Filtering)
City Center (Lateral Pass)
Dance Theater Workshop (Both Trumpets and Drums)
Interpretations Series/Merkin Hall (The Time Land Forgot)
Lincoln Center Out Of Doors; Lotus Fine Arts (Semiotic Handgun)
New Arts Program/Kutztown
Walker Art Center (The Ayatollah Euphonium)
Danspace (Careful Aim)
The Joyce Theatre (Shutter)
LaMama (Experimenting With Household Chemicals)
New Music America (Hornmonic)
Experimental Intermedia Foundation (The Trombone That Devoured Cleveland)
Boston Opera House (Fast Dream)
Jacob's Pillow (Lateral Pass)
Roulette (Subway Dream Music)
Snug Harbor Cultural Center (music for The Passage II)
The Jacques Marchais Center for Tibetan Art (Drone World and Apache Fog)
St. Peters Church at Citicorp and Deep Listening Space (Default Mode)
Hudson Opera House (Teapot/Heatsink)
Hudson Valley Writer's Center, Sleepy Hollow (Stratolounger)
Woodland Pattern Book Center, Milwaukee (Loudspeaker than Words)
The High Zero festival, Baltimore (Conflict of Interest)
American Center, Paris (Sea Breathes)
Seibu, Tokyo
Akademi Seni Tari Indonesia, Jakarta, Jogjakarta, Surakarta, Denpasar
United States Information Agency, Unites States Embassy, Singapore
Logos Foundation, Ghent, Belgium (Five People Taking Long Journeys Separately)
MeX, Dortmund, Germany (Pup Ramping)
CUBA, Münster, Germany (Neural Sturgeon)
National Conservatory of Music, Tbilisi, Georgia (Drone World)
Selected Support and Residencies
Harvestworks Artist In Residence
Mary Flagler Cary Charitable Trust
Jerome Foundation
Helen W. Buckner Charitable Trust
New York City Department of Cultural Affairs (multiple awards)
New York State Council on the Arts (multiple awards)
National Endowment for the Arts (multiple awards)
Meet The Composer (multiple awards)
Phaedrus Foundation
Trust for Mutual Understanding
Council on the Arts and Humanities for Staten Island, multiple awards, including an Original Work fellowship
New York Foundation for the Arts fellowship program and Artists in the Branches
Selected Choreographic Commissions
Trisha Brown, Newark (with Donald Judd); Lateral Pass, which won a Bessie award
David Dorfman, Careful Aim and Out of Season
Risa Jaroslow, Shuffled Hearts and Great Escapes
Irene Hultman, Gruff
Randy Warshaw, Shutter
Jonathan Appels, Fields and Stars and Coco Grille
Debra Wanner, For Virginia and Tryptich Escapade
Stephanie Woodard, many dozens of works
Performances for Other Composers and Ensembles
Downtown Ensemble, ModernWorks Ensemble; David Behrman, Jacques Bekaert, Barbara Benary, Earle Brown, Rhys Chatham, Anthony Coleman, Nick Didkovsky, Dan Froot, Jon Gibson, Daniel Goode, Peter Gordon, Steven Hall, Tom Hamilton, William Hellermann, Dick Higgins, Guy Klucevsek, Joan LaBarbara, Steve Lacy, Annea Lockwood, Frank London, Alvin Lucier, Jon Lurie, Jackson MacLow, Christopher McIntyre; David Mahler, Ron Nagorcka, Phill Niblock, Yvette Perez, Johnny Reinhard, Arthur Russell, Bill Ruyle, Elizabeth Swados, Yasunao Tone, Lenore Von Stein and Yoshi Wada.
Memberships
Local 802, Associated Musicians of Greater New York; Broadcast Music, Inc. (BMI); New York Brass Conference; Audio Engineering Society; Council on the Arts and Humanities for Staten Island; Chamber Music America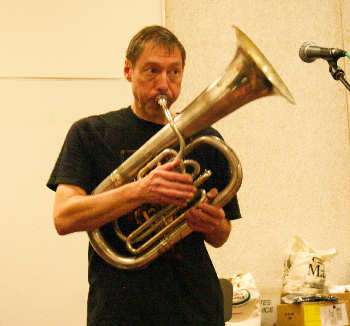 Peter Zummo at K&D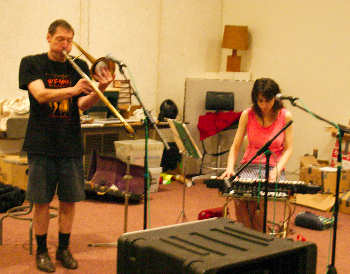 Peter Zummo at K&D with Yvette Perez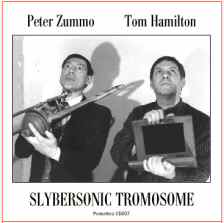 Slybersonic Tromosome
---
---
To reach the composer:
On-line: pzummo@newyorkartsprogram.org
By telephone: +1-718-720-9369
By physical mail: 184 Daniel Low Terrace, Staten Island, New York 10301 US

---